Ready, Set...Charge!
Learn how SCE is partnering with businesses, local governments and other organizations in the community to make electric vehicle charging easier and more convenient for all types of vehicles.
We're Electrifying Transportation Through Charge Ready
Through Charge Ready, our utility, Southern California Edison, installs, maintains and covers installation costs for charging infrastructure, while participants own, operate and maintain the charging stations. The program also provides rebates toward the purchase of charging stations.
EDISON ELECTRIC INSTITUTE EMOBILITY AWARD
Edison Electric Institute eMobility Award Edison International and SCE were presented with the Edison Award for the advancement of transportation electrification on June 10, 2021.
The award is the electric power industry's most prestigious honor and recognizes distinguished leadership, innovation and contribution to the advancement of the electric industry for the benefit of all.
Light-Duty Vehicles
SCE has been partnering with businesses, local governments and other organizations to help increase the availability of electric vehicle charging stations at locations where people park their cars for extended periods of time.
LEARN MORE ABOUT CHARGE READY AND HOW TO APPLY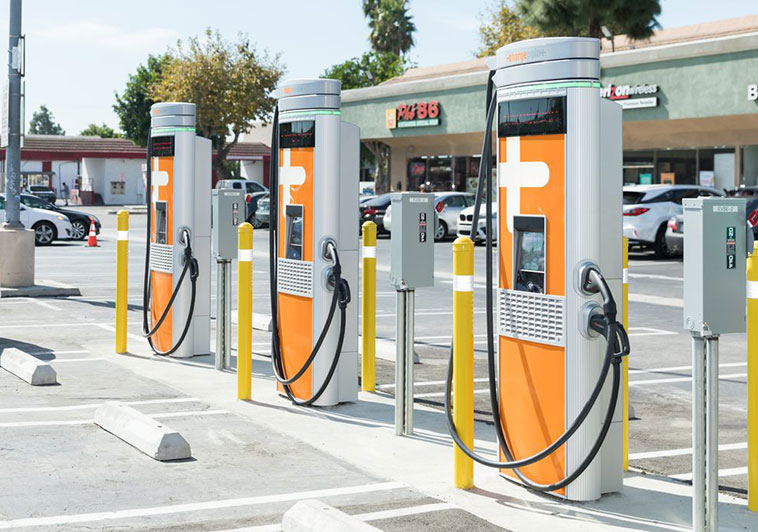 Transit Buses
Fossil-fuel powered buses are a significant source of air pollution in urban communities. Infrastructure to support electric bus charging at bus yards is being installed, focusing on transit systems in underserved communities that are disproportionately impacted by air pollution from buses.
READ MORE ABOUT CHARGE READY FOR TRANSIT BUSES
Port Electrification
At the Port of Long Beach, SCE is installing infrastructure for the electrification of equipment used to move goods containers around the port. This equipment was previously powered by diesel engines, which are a significant source of air pollution.
READ MORE ABOUT CHARGE READY PORT ELECTRIFICATION EFFORTS
Charge Ready programs support the expansion of electric vehicle charging at homes, workplaces, schools and public places, as well as fleet and industrial vehicle charging.
In April 2018, SCE filed a final report with the California Public Utilities Commission on the results and findings of the Charge Ready pilot program.